Marion Richmond will tell you proudly, "I could talk about horses forever." This enthusiastic passion for horses has been with Marion since childhood. In those early days, Marion would ride her part-bred Arabian, Cherry, along the bush trails winding throughout the Hills District outside of Sydney, Australia; those countless hours in the saddle spent dreaming of a white, purebred Arabian mare and breeding foals from her. That daydream manifested with the purchase of Marion's first foundation mare, Fuewasa, and in 1960, when she foaled Shoshanna (by Sala), Simeon Stud was established.
For more than a decade, Marion bred and continued to broaden her knowledge, ultimately determining that she wanted perfection—to breed the perfect Arabian. She made the decision to sell all of her horses except Simion Shirli (Dresden x Simeon Sharon, tail-female to Fuewasa), and set out to start over.
Committed to buying only the very best, Marion toured the world. At the Tersk Stud in Russia, she eventually secured Novina (Aswan x Nemezida) and Nadira (Aswan x Napersnitsa). Among their numerous noteworthy offspring, Novina produced one of Marion's all-time favorites, the Australian Champion, Simeon Savion (by Ansata Abbas Pasha), while Nadira's son, Simeon Shor (by Antey), was sold as a yearling for $260,000 U.S. at public auction.
Damirah (Hadban Enzahi x Hamdi), another of Simeon Stud's many Australian Champions, was purchased from Marbach Stud, Germany, and bred to El Shaklan (Shaker El Masri x Estopa). The resulting colt, Simeon Sa'ar, also features on the long list of Simeon-bred, Australian Champions and he proved to be a highly popular and successful sire of breeding stock and show horses.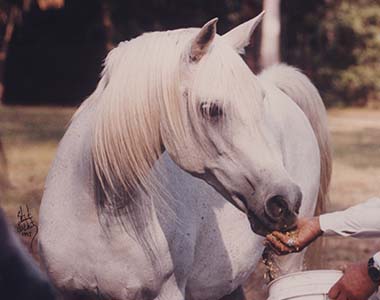 Among those successful show horses were the Australian Champion and U.S. National Top Ten, Simeon Sanegor; National Champion of New Zealand, Simeon Shomer; and the Australian Champions Simeon Shifrah and Simeon Sedra. All four full siblings were the offspring of Simeon Shirli.
It was during this period that the first Australian Champion, 27 Ibn Galal-5, was procured.
27 Ibn Galal-5 (Ibn Galal x Hosna), a 1973-1991 Straight Egyptian mare, was bred by the Hungarian State Stud, Babolna and as of January 2021, through four daughters: Simeon Safanad (by Sankt Georg), Simeon Sheba (by Raadin Royal Star), Simeon Sukari (by Asfour) and Simeon Simona (by Asfour), the family of 27 Ibn Galal-5 boasts 200 Simeon-bred, tail-female descendants.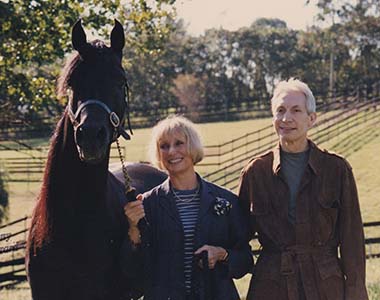 Marion waited 10 years for a son of Hanan (Alaa El Din x Mona) and her patience was rewarded with the straight Egyptian Asfour (by Malik), 1984-2009. Asfour's offspring set a new standard, winning numerous national and international titles and selling for record prices.
For the daughters of Asfour, Marion selected Imperial Madaar and Anaza Bay Shahh. Collectively, the threesome consolidated a Simeon type, and the breeding program produced a number of noteworthy individuals whom Marion would describe as almost perfect.
The Australian Champion, straight Egyptian Imperial Madaar (Imperial Madheen x Ansata Nile Mist), 1987-2011, was an extraordinary sire, his offspring consistently inheriting the best of both their sire and dam.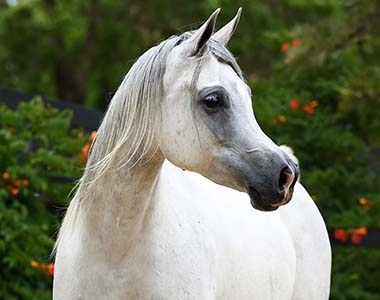 Anaza Bay Shahh (Shaikh Al Badi x Bint Deenaa), a straight Egyptian stallion, 1987-2016, was a Reserve Australian Champion with a legion of fans from all around the world. That worldwide respect saw the international sale of nearly one third of his 65 Simeon-bred offspring.
The almost perfect blend of his heritage, Simeon Shifran (Asfour x Simeon Shavit, by Anaza Bay Shahh), a 2007 straight Egyptian stallion, was chosen to be his sire's successor.
Simeon Sahron (Imperial Madaar x Simeon Setavi, by Simeon Sadik), another 2007 straight Egyptian stallion, and his full sister Simeon Shekhara, represent the mastery of Marion's breeding, her unyielding dedication to incremental improvement through each generation.
And with the breeding program now solely focused on the production of straight Egyptian linage, Simeon Samech (Anaza Bay Shahh x Simeon Saada, by Asfour), a 2004-2019 straight Egyptian stallion, rounded out the set of sire line successors in Marion's pursuit for perfection.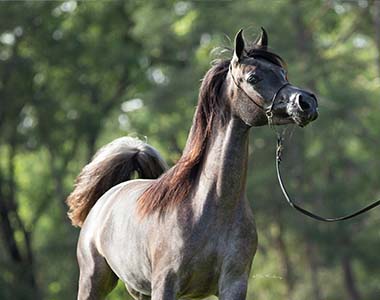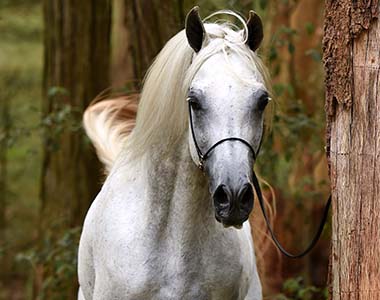 Always dreaming of breeding that perfect Arabian, Marion's contemplation took her to the German-bred ancestors of Asfour and Imperial Madaar. Her quest covered hundreds of kilometers and the inspection of dozens of horses, culminating with the purchase of straight Egyptian mares El Dahma II (Montasar x Bint Iman), 1992-2015; Mussallah (Montasar x Mohebba Bint Maymoonah), 1996-2020; and CM Moussameh (Mulayh Ibn Maareesa x Moussah Bint Moussameh), 1998.
CM Moussameh inspired the acquisition of her sire, straight Egyptian Mulayh Ibn Mareessa (Ansata Amir Zaman x Maareesa), 1995-2019, and his Simeon-bred sons and daughters are poised to perpetuate his valuable heritage for generations to come.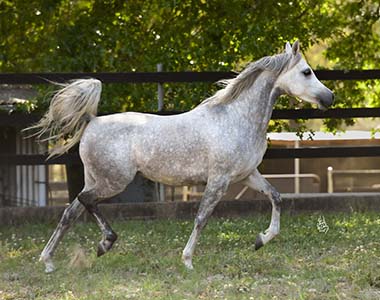 Furthermore, CM Moussameh brought Simeon Stud's breeding program a step closer to perfection with a son, Simeon Seifan (by Simeon Shifran), a 2014 straight Egyptian. As was anticipated, Simeon Seifan has shone as a sire, his first-born filly, Simeon Shivah, evokes the perfect white mare (in due course) that Marion dreamt of all those years ago.
The 2018 straight Egyptian Simeon Shivah (Simeon Seifan x Simeon Seis, by Imperial Madaar), is a mare to behold, exhibiting the finest characteristics of her pedigree. She is the intended evolution of 60 years of dedication. Marion will proudly tell you that Simeon Shivah is almost perfect, and that the future will see the pastures of Simeon Stud stocked with mares and stallions of Simeon Shivah's quality, conformation and type.
All things considered, Marion says her lifelong passion, the decades of diligence, times of elation and those sad days of sorrow and sacrifice, were an unimaginable adventure for a little girl riding her pony along those rural bush trails. That her dream of the perfect Arabian, has provided a full, purposeful life filled with family, friends and so many unforgettable moments and memories, that no word could better describe the journey, than perfection.